WHY CHOOSE TO COMMISSION A PORTRAIT?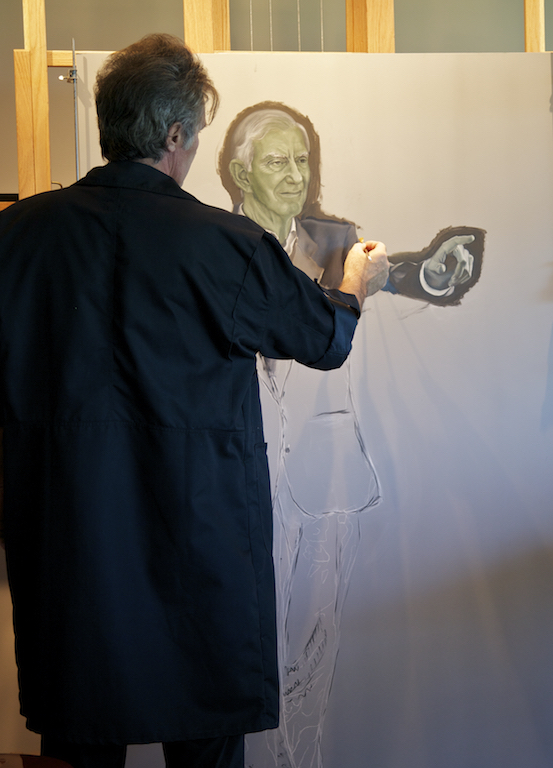 I believe a portrait, particularly a classical oil portrait, will tell your story for the next 500 years — or more.
It is generally understood that nothing captures the essence of an individual as eloquently as a portrait, a tradition that pays tribute to those we hold in high esteem, whether famous or simply dear to us, or to celebrate an event or memory.
It is usually a once in a lifetime experience. Here's how I will create a lasting legacy for you, your family, your business or to honor a public or religious figure:
First, I will meet with you in person or by phone to discuss what you have in mind as well as your time frame and budget. We then arrange for a first sitting, preferably at your location, or at my studio. We will get to know each other, discussing the tone of the portrait, the composition, attire and where the portrait will be hung. While we talk photographer Connie Bransilver makes many informal photographs for future reference. I then set up the lights and pose you while Connie continues to photograph and I may make sketches.
 
I begin with a detailed chalk drawing. I use the Old Masters technique called verdaccio, the classical Italian style of painting a gray-green underpainting, then I superimpose the colors at the same value over that underpainting. I believe this creates realistic and luminous skin tones. I am generally a minimalist; however, as I get to know your personality I portray who you are in order to give the work a sense of eternity.
 
We will continue to discuss the evolution of the portrait. The key is communication so that I know you well.
 
Depending on the size and complexity of the project, the process takes between three and nine months to complete. Once completed, your portrait is ready for formal unveiling, usually a dramatic event which I will have videoed and presented to you as an additional keepsake. I can then assist you in final framing and installation of your completed portrait.
 
You can commission a "portrait" of your horse, your pet, your garden, a special view, or something other than a human being. We can discuss your wishes and agree on how I might render your ideas on canvas or board.
 
Prices vary according to size, medium, complexity and number of individuals in the portrait. Once agreed, half is due upon initial contract and the remainder is due upon delivery.
At first "it seemed a little pretentious to me. I mean, 'who am I to have my portrait painted?' But the more I thought about it, we're protecting and saving the Everglades in a whole new way through Nicholas' work." - Gladesman Franklin Adams, Guardians of the Everglades


"I feel that it really gives the reflection of the feeling I have being in the swamp. . .It makes me a little nervous to have my portrait done [but] it's pretty exciting. I think that if someone wants the feeling of who they are, then do it." - Photographic Artist Clyde Butcher, Guardian of the Everglades

"This is very spectacular. I am humbled, very humbled, that you wanted to do this." - Father Michael Basden, Rector, Trinity-by-the-Cove Episcopal Church, Naples, FL

"It was fun! I actually enjoyed watching the painting evolve, though at first I doubted that anyone could interpret my personality. Nicholas did. I love what I see, and love knowing that he sees me as beautiful, vivacious, strong and feminine." - Connie Bransilver, wife of artist Nicholas Petrucci, Model for "The Patriot"


RESUMÉ AND BIOGRAPHICAL SUMMARY
Born in Champaign, Illinois, I was reared in a family that valued art. Visiting the great museums and standing in awe before paintings by the Old Masters set my course. I was persuaded to study medicine but eventually focussed on art. Schools taught modern art so I taught myself traditional techniques of portraiture to create elegance and emotion.
Before becoming a full time artist I worked in several professions including hospitality, construction, retail, and finally, law enforcement. Each offered insights into the human condition which are invaluable to me now as a portrait artist. They also taught me self-confidence, self-reliance, the value of sustained hard work, and the grace to appreciate fine art.
I have built my art business for 25 years, first in central Illinois, with a period in Mombasa, Kenya, and since 2004, in Naples, Florida. Though family and personal health challenges intervened, I built a comfortable reputation as a portrait artist, from drawings to full color life size oils.
Family drew me to Naples. Soon after I met and married Connie Bransilver, an established international nature photographer. We worked independently from 2005 while I was commissioned by luminaries such as Dr. Jane Goodall, Her Honor, Mrs. Ade Balogun of Nigeria, Father Michael Basden of Trinity by the Cove Episcopal Church, and International Yogi Kiersten Mooney. I also painted models -- La Femme en Bleu 1 and 2, Dama Madonna, -- as well as Il Tuono/Thundering and others. My wife and I merged our efforts in 2010 to produce Guardians of the Everglades®.