SMALL WORKS BUT MEANINGFUL VISIONS
Exhibition sponsored by Naples Art District Nov. 2 - 30, 2016
Preview showing and meet the artists Nov. 2, 12pm - 3pm
Opening Reception Nov. 2, 5pm - 8pm
WHERE: The Artists' Gallery
6240 Shirley Street, Suite 104 Naples, FL 34109
Guardians of the Everglades Portraits Nearing Completion
While I complete the portraits Connie is trying to raise the money to complete the interviews and create the explanatory panels. Two major art museums are considering premiering the exhibition. While there are over 40 environmental organizations working toward Everglades conservation, we are the only one dedicated to spreading the word through powerful visual messaging using art and stories of leadership to create an emotional attachment that changes behavior and inspires action. That, along with the quality of the art, should easily sell the project. Click here for the Executive Summary.
Florida Humanities Council Focus on Everglades and GOE
Labeled the "Adventure to Florida's last frontier," the twenty guests lead by Guardian Franklin Adams, traveled in Big Cypress, Fakahatchee, and Everglades National Park, winding up with a half day slide show and discussion with Miccosukee Elder Betty Osceola (niece of Guardian Buffalo Tiger), Guardian Deb Jansen, and Nicholas and Connie. Among other requests, one guest asked for the lyrics of Walt Leuzinger's "River of Grass." www.Floriidahumanities.org.
Fakahatchee Swamp Walk - No Gators, No Snakes, No Mosquitoes - Just Cool, Clear, Water
The day could not have been more perfect, and with the help of friends Tom Maish, Francine Stevens and Glen Stencil, Connie led a family who won a swamp walk through a silent auction bid. Everyone survived!
Sometimes called the Photographer from La Mancha, my friend, colleague and dedicated environmental photographer, Gary Braasch, made documenting the effects of climate change his life's work. He died this month while snorkeling and photographing along the Great Barrier Reef. Gary once noted that we have a lot of technology addressing climate change, but nothing's going to happen until we actually FEEL it ourselves and SEE it. (Same with Everglades conservation.) Read more here.
The AFTER Party Honoring Guardian Mary Barley Was a Huge Success!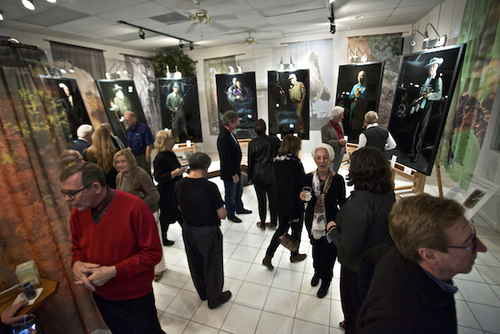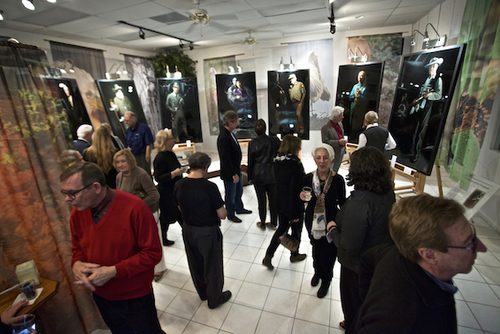 Our Gallery is a Great Venue for Others, Too!
Financial Team to Host Seminars at Our Gallery
On Tuesday, January 26, and Thursday February 23. 6:30 - 8:00 p.m.
Gifts in Stock! ART to make your heart sing...or as the perfect gift.
These and many more are in the studio now in a wide range of styles and prices in time for the upcoming holidays or whatever you wish to celebrate.
Thank you Lane Wilkinson for your kind words!
"Truly an emotional experience viewing, learning and sharing the care with Connie Bransilver and Nicholas Petrucci- Guardians of the Everglades!!!! I am a huge fan of Connie's Photography!! And for the first time, I heard Nicholas speak about his paintings.
"I had seen the beginning of this collection in years prior, but they never hit me like tonight. Among all of the abstract and modern art I so love today, Petrucci's artwork takes me back to my roots of the Greats like Rembrandt, Vermeer, Caravaggio, Michelangelo, DaVinci... Incredible Remarkable art that just brings me to tears.
""My father once said to me that these artists had to be sent here by some higher power, that they are incredulous 'other beings.' Nicholas Petrucci is one of those Other Beings, and together w Connie Bransilver, an incredible artist in her own fabulous right, with the care and heart for animals and nature and a most Beautiful 'eye' ... NatGeo acclaimed Photographer! These two beings are creating awareness in the most spectacular way for the benefit of Florida's Everglades. Their works should be displayed in the largest most visible way possible for all to see and understand why the Everglades needs to be protected !!!!
Thank you, Donna Carty ❤❤ Connie Bransilver Nicholas Petrucci Guardians of the Everglades"
"Hell Has Frozen Over: Figurative Art is Poised to Become the 'Next Big Thing'"
— or so says Prof. John Seed citing a New York Times article and writing that Jeffrey Deitch and Larry Gagosian, two "heavyweights" in the international art world, are showing a lot of figurative painting at Art Basel in Miami this month — for extremely high prices.
www.huffingtonpost.com/john-seed/hell-has-frozen-over-figu_b_8683186.html
You can see — and buy — the best figurative art in our gallery right in Naples. Shop for Christmas — commission an oil portrait, or a painting for your home, or buy paintings or photographs right off the walls for yourself or as gifts.
Activist Mary Barley, the Eighth Guardian of the Everglades
Her portrait, now completed by Nicholas, was revealed November 11th at the Atlantic Salmon Federation dinner at the Mandarin Oriental NYC. Nicholas "revealed" Mary's portrait with a page in the event program, but the official unveiling of the 6 x 4 foot oil portrait will be at the Everglades Foundation sponsored reception January 8th at the annual Everglades Coalition Conference next year to be held at the Biltmore Hotel in Coral Gables.
Mary was named "Hero for the Planet" by Time magazine for her pioneering work to save the Everglades. Mary calls herself a rabble-rouser. "To make change you need to be a rabble-rouser." Though soft-spoken Mary is a force of nature when it comes to environmental protection and well deserves to be a Guardian of the Everglades.
New York Dinner: http://www.asf.ca/new-york-dinner_1.html
Everglades Coalition Conference Brochure: http://www.evergladescoalition.org/PDF/EVCO2016_ConferenceBrochure.pdf
Read All About It! Naples Daily News Article
The Naples Daily News published an excellent article of the Guardians of the Everglades in the Neapolitan section. Click the image or use this link to read it!
Harriet Heithaus, arts editor for the Naples Daily News, wrote an insightful and complimentary article and she noted particularly that "One characteristic radiates from every countenance in this gallery of guardians: vigilance. These Everglades preservationists, in life-size paintings, loom even larger because of it."
The July 31st Second Annual Designer and Summer Insiders Party was hot...
— really hot! So we stayed inside, but maybe the October follow up will allow us to open up onto the parking lot. Stand by . . . and enjoy these photos.